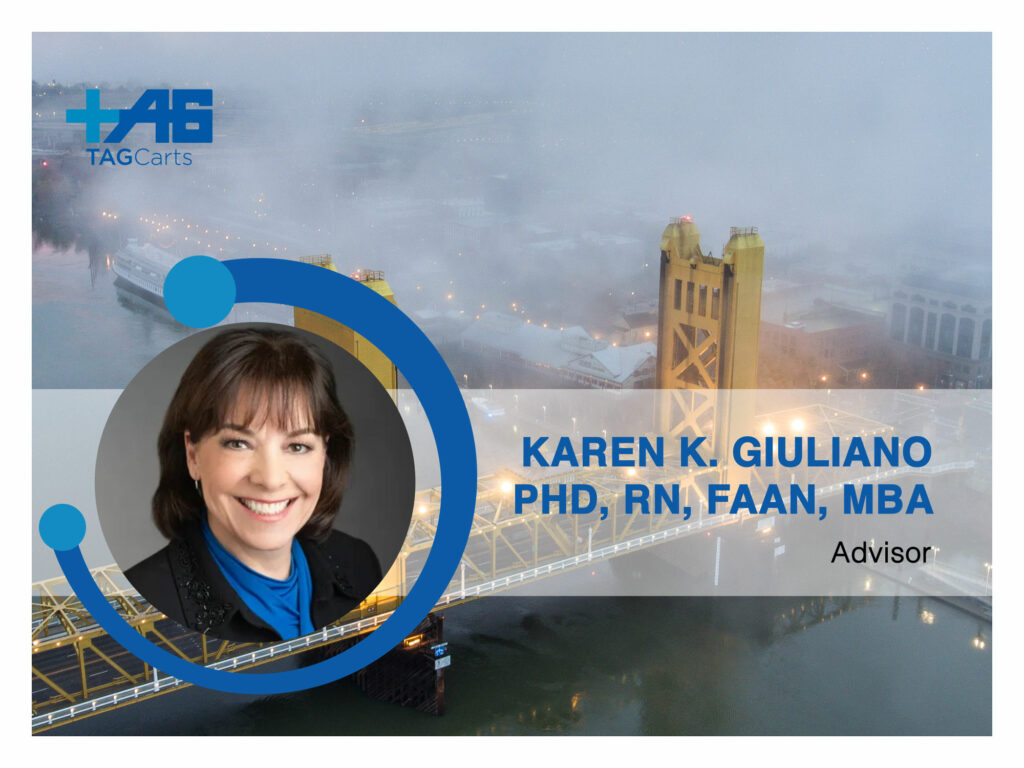 KAREN K. GIULIANO, PhD, RN, FAAN, MBA
Karen has over 25 years of experience in critical care nursing, medical product innovation and clinical outcomes research. Karen has made numerous contributions to the literature, with over 80 publications in more than 20 different journals and is also a frequent presenter. While her knowledge is in general acute and critical care, Karen's specific interests are focused on the intersection of clinical needs and medical technology use, development and innovation.
"TAGCarts is committed to creating innovative products that include clinical end-users as a vital part of the product development process-that is why I am part of TAGCarts."
Dr. Giuliano is the Principal and Founder of Pace-Setter & Associates, a consulting firm leading the way in medical product innovation by transferring evidence into impact.
While at Philips Healthcare, Karen spent 12 years in various global roles, working with patient monitoring systems and clinical outcomes research. As a result of her work in new product development at Philips, Karen was the global Quality Improvement Competition winner (2011) in the R&D category for new product innovation. In 2012, Karen received the professional achievement award for innovative product development from the Association for the Advancement of Medical Instrumentation. In 2016, Karen completed a postdoctoral research fellowship at Yale University, where she collaborated across the schools of nursing, engineering and business while working on improving the safety and usability of IV smart infusion pumps. The central focus of Karen's work is to improve patient outcomes through innovation in health care delivery practices and products.
Education
Yale University (2014-16): Postdoctoral Research Fellowship
Babson College (2009) : MBA, Global Management Concentration
Boston College (2005): PhD
Research & Project Interests
Medical product innovation/development & associated clinical outcomes research
Medication administration safety with IV smart pumps
Non-ventilator hospital-acquired pneumonia
Small Business Innovation Research Grant (SBIR) Proposals