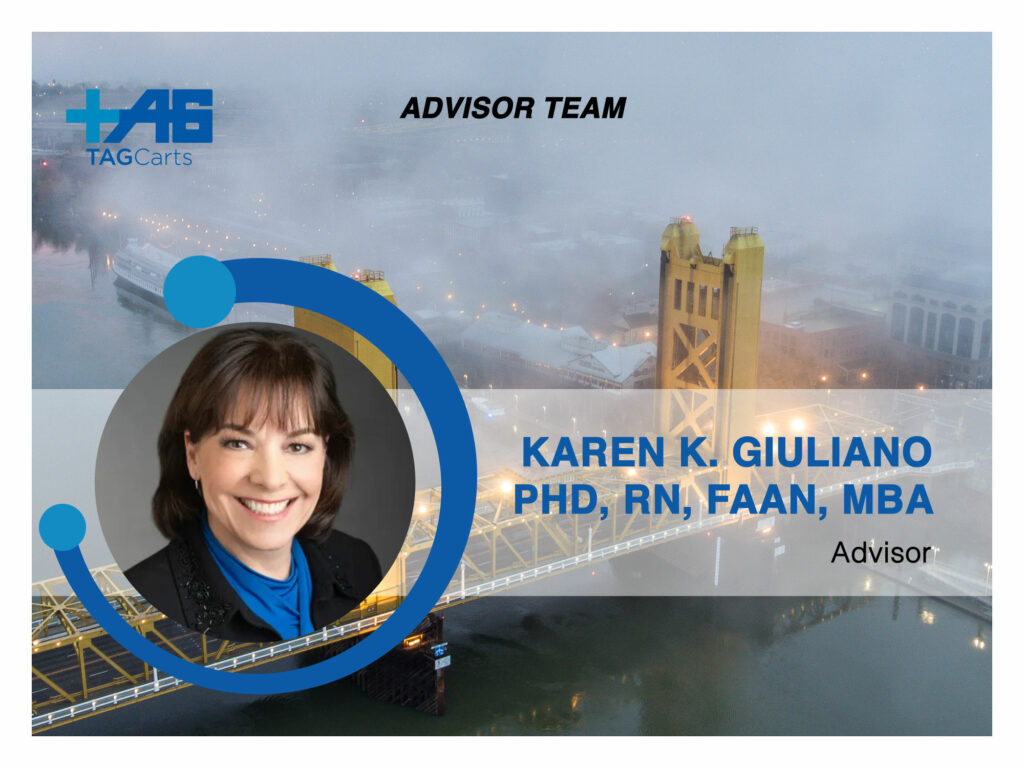 Nurse Innovator Joins TAGCarts
August 20, 2021 – Sacramento, CA USA
TAGCarts is pleased to officially welcome Dr. Karen K. Giuliano, PhD, RN, FAAN, MBA, to the TAGCarts Board of Advisors.
Karen brings over 25 years of experience in critical care nursing, medical product innovation and clinical outcomes research. Karen has made numerous contributions to the literature, with over 80 publications in more than 20 different journals and is also a frequent presenter. While her knowledge is in general acute and critical care, Karen's specific interests are focused on the intersection of clinical needs and medical technology use, development and innovation.
In mid 2020 during the height of the COVID-19 pandemic, Registered Nurse, Karen K. Giuliano, was featured on the "Handoff" podcast by Trusted Health – For the Modern Nurse, as a nationally recognized nurse-innovator. TAGCarts reached out to Dr. Giuliano to appreciate her interview and share the work they were doing to elevate nursing with highly designed medical carts for healthcare.
Karen recognized the medical cart market as antiquated and ripe for disruption. Embracing TAGCarts' vision and culture, Karen was attracted by how the company had made nurse input vital to their research and design process. In light of the CEO's experience in medical carts for healthcare, Karen was impressed with the depth of end-user / nurse feedback TAGCarts integrated as part of the due diligence product development process. (TAGCarts and it's partners conducted a multitude of interviews, performed in depth research, and hosted a three-day design charette with nurses in Berkeley, California in January 2020).
In the fall of 2020 TAGCarts engaged Karen's consultancy firm, Pace-Setter & Associates, to perform clinical research and collect data around a potentially life saving medical cart innovation project. In addition Karen participated on the design team for their first generation supply / treatment / procedure medical cart.
Karen and CEO Taggart Neal met in Boston, Massachusetts in April of 2021 as her role soon progressed from consultant to Advisor.
Dr. Giuliano's professional and educational background can be seen on her Advisor profile here.